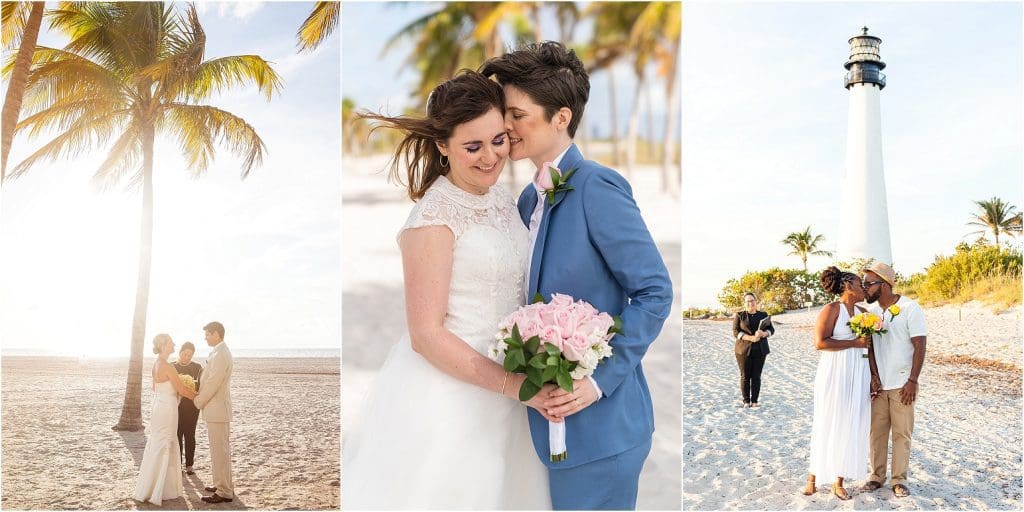 Congratulations on your upcoming nuptials!
… Now what?
You are absolutely certain that you want to spend the rest of your life with your partner and you can't wait to share your vows in an epic setting. But as you research vendors and draft your guest list, something doesn't feel… right.
You suddenly realize that the fanfare of a big wedding isn't for you.
We get it. We've been there. We agree.
And here's the beauty of it – an elopement wedding can be as straightforward as simply the two of you at Town Hall, or taking a vacation and saying your vows in an epic place with a few of your most beloved friends and family.
If you're still on the fence about which way to go, we're here to help. We asked our in-house Destination Wedding Planner, Elopement Photographer, and Elopement Wedding Officiant to share their thoughts on some of the reasons why a couple should consider to elope in Miami.
1. You don't like being the center of attention.
Does the idea of stating your wedding vows in front of a large group of people terrify you? If the thought of everyone's eyes on you makes you feel at all uncomfortable, then an intimate elopement ceremony may be for you.
"I think it takes a special kind of person to vow a lifetime of love and commitment to someone in front of a large group of people. To commit to someone on a deep and spiritual level is a very personal, very intimate thing. When a couple elopes, you really feel it. The way they look at each other, the way they hold each other – it feels so much more personal when they share that space alone." – Melissa, Elopement Wedding Officiant, Small Miami Weddings
2. Finances are tight.
Truth be told, weddings are expensive. Between the venue, food, and beverage, flowers, cake, and all the miscellaneous expenses, you're either sacrificing or saving upwards of $20k for a low-budget wedding. Interestingly enough, a flight, hotel, and excursions in South Florida will likely run less than half of that!
"Whether you like the outdoors, being in the water, lounging around, or enjoying International cuisine, Florida has something for everyone. Cruising from Miami has become very affordable and flights in and out of Miami International Airport have never been cheaper. With an abundance of hotels and AirBnB's in all the best neighborhoods (Wynwood, Brickell, Coconut Grove, Coral Gables, Key Biscayne, Miami Beach), Miami is one of the best places to elope in US. And eloping in Miami is more affordable than many would think." – Jackie, Destination Wedding Planner, Small Miami Weddings
3. You'd prefer to spend the cash on something else.
Maybe the thought of blowing $20-$30k on a large wedding just doesn't make sense to you. You could invest in a house or starting a business. You could spend it on an amazing honeymoon. Or you could opt to have an epic wedding experience.
"I love adventurous couples. And I don't think an elopement should be limited to a short wedding ceremony – not when Miami has SO much to offer. Eloping in Florida should be an intimate experience that you'll never forget. You could spend a weekend at Miami's most stylish hotel, eating at the fanciest restaurants in Florida and dancing at the best night clubs in the world. You could spend the week outdoors boating, diving, or playing on the water. You could travel to Key West, St. Pete Beach, Siesta Key, or Orlando. There is too much to do in South Florida to limit yourself to one evening of nuptials. Make it an eloping wedding experience." – Gen, Miami Elopement Photographer, Small Miami Weddings
4. You value the closeness and intimacy of an elopement wedding in Miami.
Some couples feel that marriage is about two people committing to each other and so when they vow to spend their lives together, they should do that with one another alone. When you envision your perfect wedding, do you see your loved ones there shouting out to you as you get married and celebrating with them on a dance floor? Or do you see a small beach wedding, in a calm venue with a candlelit dinner with a handful of family and friends?
"Remember that an elopement no longer means that the couple is running away together, unbeknownst to everyone. The definition of Elope has evolved SO much. You could share the occasion with close family and friends. Many of our clients are traveling with parents and siblings. What's important to understand is that however you decide to marry, that it feels right to the two of you. When destination couples are planning to elope to Miami, or elope in Key West, elope in Ft Lauderdale – or simply elope to Florida, the rules are, there are no rules. That's the definition of elopement and that's the beauty of a modern elopement." – Melissa, Elopement Wedding Officiant, Small Miami Weddings
5. Making decisions stresses you out.
Decision fatigue is real and it happens all the time with wedding planning. Couples start planning a large wedding and scratch it all for an intimate beach wedding in Miami. At Small Miami Weddings, we understand.
"We offer all-inclusive, pre-designed Miami Beach wedding packages. Yes, they can be customized to fit the destination couple's needs – but if your goal is to keep your elopement checklist short, we've got you covered. All of our elopement packages include an elopement wedding officiant, elopement photographer, floral design, and an Elopement Wedding Planner. If your dream is to Elope to Florida, then our elopement wedding planners in Miami have curated these South Florida elopement packages to include everything you need to make that dream come true." – Jackie
6. You need to get hitched ASAP.
Getting legally married in Florida does come with its perks. Some employers offer health insurance benefits for spouses, which may be necessary during difficult times. For some couples looking to grow a family right away, eloping may offer the quickest solution.
"What does it mean to elope? Anything you want it to! When you're in a hurry to marry, an elopement ceremony can be quick and easy. A couple could consider researching the best places to elope in the world or simply how to elope near me. The fun of it is when you get creative. Make it special, unique, and intimate." – Gen
Our team can walk you through every single step of having an adventurous elopement in Miami. Reach out so we can help create your dream elopement.