A Fairytale Garden Elopement: How to Escape the Ordinary and Have an Unforgettable Wedding
If you want an unforgettable wedding, consider having a fairytale garden elopement. This type of wedding is perfect if you want to escape the ordinary and have an intimate ceremony with your closest friends and family. This blog post will discuss everything you need to know about planning a fairytale garden elopement. We will cover everything from choosing the right location to hiring vendors. Let's get started!
1. What is a fairytale garden elopement, and why should you consider having one?
Why not consider a garden elopement if you dream of a fairytale wedding? A garden elopement is a beautiful and intimate way to exchange vows; there are many reasons to consider it. For one thing, it's a great way to save money on your wedding. Garden elopements are typically much smaller and more intimate than traditional weddings, so you won't have to worry about spending a fortune on reception or renting a large venue. Additionally, a garden elopement lets you focus on your relationship matters most. Without the distractions of a large wedding, you can truly savor the moment and concentrate on your love for one another. And what could be more romantic than exchanging vows surrounded by Miami tropical beauty? If you're considering a garden elopement, Miami is the perfect place to do it. Miami is a paradise for lovers with its gorgeous gardens, year-round warm weather,  a foodie haven, and much to do for you and your guests. If you're looking for a fairytale setting for your wedding day, look no further than a Miami garden elopement.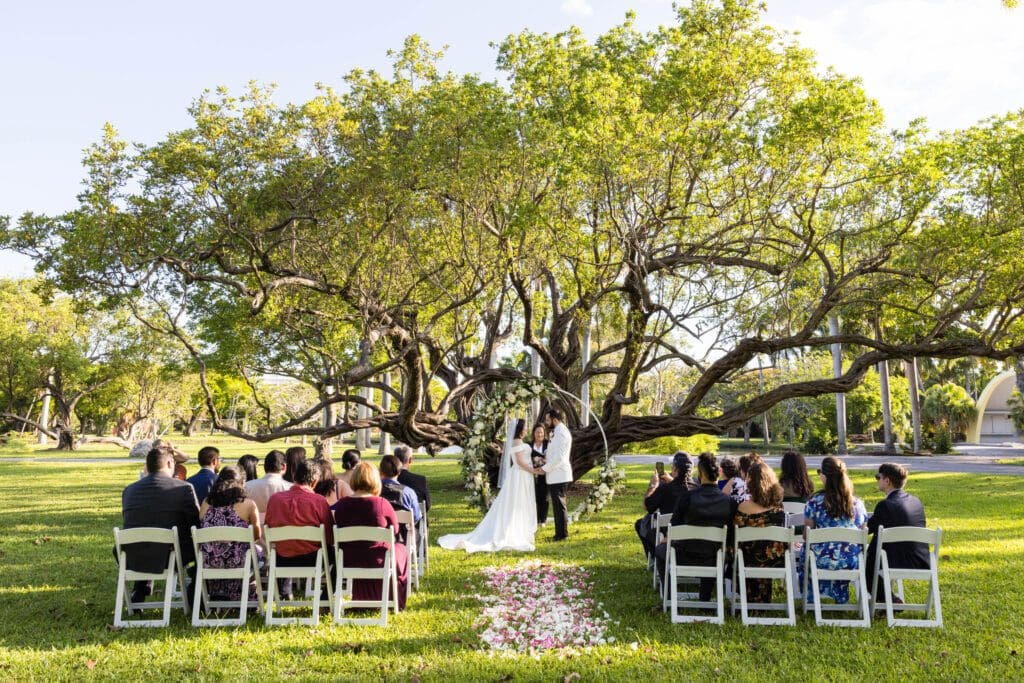 How do you plan a fairytale garden elopement wedding ceremony and reception?
An intimate garden wedding in Miami is more than finding the right venue. There are a lot of personal details that go into making your day special. When planning an intimate garden wedding in Miami, here are a few things to keep in mind:
– Choose a venue that reflects your style. Whether you envision an intimate ceremony beneath a banyan tree or a whimsical ceremony among wildlife, make sure your venue sets the tone for your day.
– Consider your guest list carefully. Intimate garden weddings are best suited for close family and friends. Keep your guest list small to ensure everyone feels like they're part of the event.
– Plan ample time for photographs. Intimate garden weddings provide a beautiful backdrop for photos, so give yourself plenty of time to capture memories with your guests. 
– Use decorations sparingly. Too many decorations can take away from the natural beauty of the setting. A few well-placed items, such as chairs, an order, and some floral to accent, will add to the ambiance
What benefits of having a small, intimate wedding ceremony like this instead of a traditional wedding with hundreds of guests?
There are no one-size-fits-all solutions. Some couples dream of a lavish affair with hundreds of guests, while others prefer a more intimate gathering. There are many benefits to having a small, intimate wedding ceremony. It can be more cost-effective than a large wedding. With fewer guests, you can splurge on higher-quality food and drinks, rent a boat for the day, go jet-skiing or parasailing, spend the day at the beach or by the pool, or spend money on a luxurious honeymoon.
A smaller guest list means you can spend more time with each person, and you won't have to worry about losing track of anyone during the festivities. Additionally, a smaller wedding can often be more relaxed and less formal than a traditional wedding. This can make the whole event feel more personal and intimate.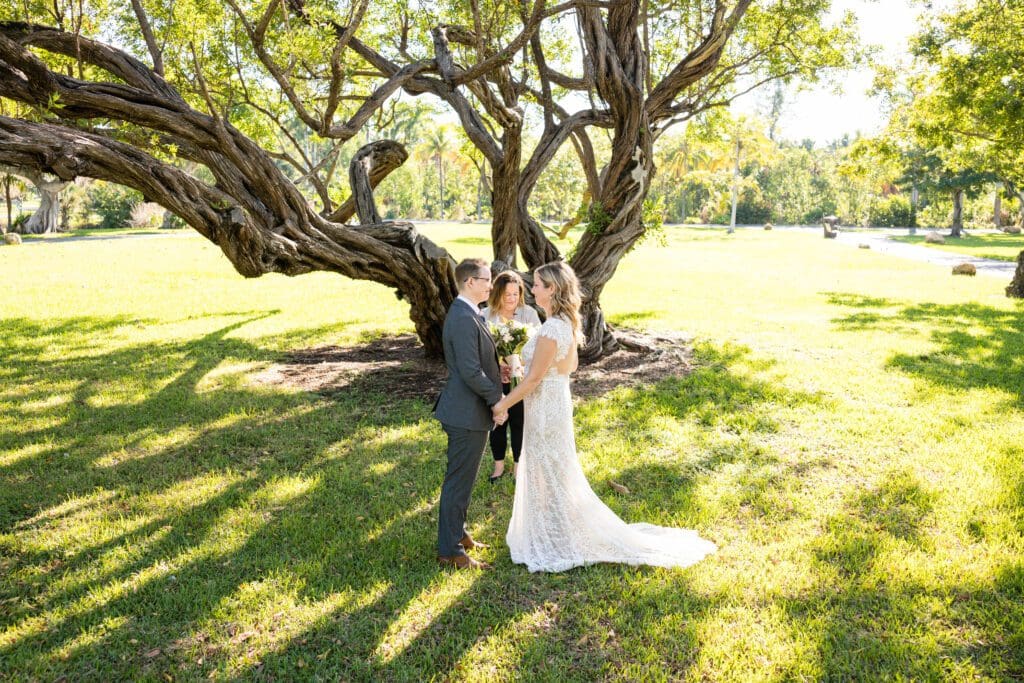 About Small Miami Weddings
We are Miami wedding planners, offering full ceremony planning for small destination weddings in Miami. Our Miami Beach elopement packages include a wedding officiant, elopement photographer, and wedding flowers. We're experts in securing the best beach venues in Miami for elopements.
We Can Help. Contact Us.
Small Miami Weddings is here to help you with changes to your intimate wedding or elopement wedding plans. For more information, questions about date availability, outdoor, open-air wedding venues, locations, packages, or anything else we can help with, please feel free to contact us by calling our toll-free number: 1-888-909-0553.