The Spread of COVID-19 (Coronavirus) Is Putting A Damper On Brides' Big Day
During the COVID-19 pandemic, many couples who have been planning on having a cruise wedding find themselves uncertain about their wedding plans. With news of Princess Cruises, Carnival Cruise Lines, Norwegian Cruise Lines (NCL), MSC Cruises, Royal Caribbean, and Disney Cruise Line suspending operations in March and April, brides around the world are confused about what to do with their non-refundable travel plans to Miami or for their destination weddings or elopements in the Caribbean (U.S. Virgin Islands, British Virgin Islands, Puerto Rico, Dominican Republic, Cayman Islands, The Bahamas, Jamaica, St. Lucia, Barbados, Aruba, Antigua, Turks and Caicos, etc.). There's so much to consider both financially and logistically right now, and we're here to help with some helpful tips so that you can still have your intimate destination wedding as safely as possible.
Stay Informed
First and foremost, you need to be updated of what is going on in Florida at all times. Travel restrictions and quarantines are popping up all over the world. If you have been planning a destination wedding, make sure you're checking in on the current status of COVID-19 with reliable sources of information such as the U.S. Centers for Disease Control and Prevention, the Florida Department of Health and the Miami-Dade County Department of Health.
Is Postponing Your Destination Wedding the Safest Option?
Postponing your cruise wedding may be the last thing you want to do, but if you feel it's the best plan for the safety and well-being of your loved ones, then it may be an option to consider. One bride who planned an intimate destination wedding on a Princess cruise ship in April is considering postponing her small wedding to a later date in November when her guests feel more comfortable about traveling. She says, "I've always dreamed of getting married on a cruise ship. It would mean everything to me if I can share that moment with my loved ones."
Miami wedding venues book up to a year in advance but outdoor open-air beach and garden elopement venues in Miami are always in abundance!
Consider Eloping in Miami Instead
The reality is that many Americans can't postpone their destination wedding. And for those of you that are already in Florida, what if you simply elope to Miami instead? With new information about "community spread", perhaps the safest plan is to have an outdoor, open-air, small wedding in Miami.
At Small Miami Weddings, we are experts in helping you find the best beach wedding location in Miami. Our Miami elopement package includes a wedding officiant, wedding photography, and florals. We understand that the coronavirus is requiring you to make quick decisions. For situations like this, our wedding planners are pros in planning an elopement in Miami within a day. Miami wedding venues book up to a year in advance but elopement venues Miami are always in abundance!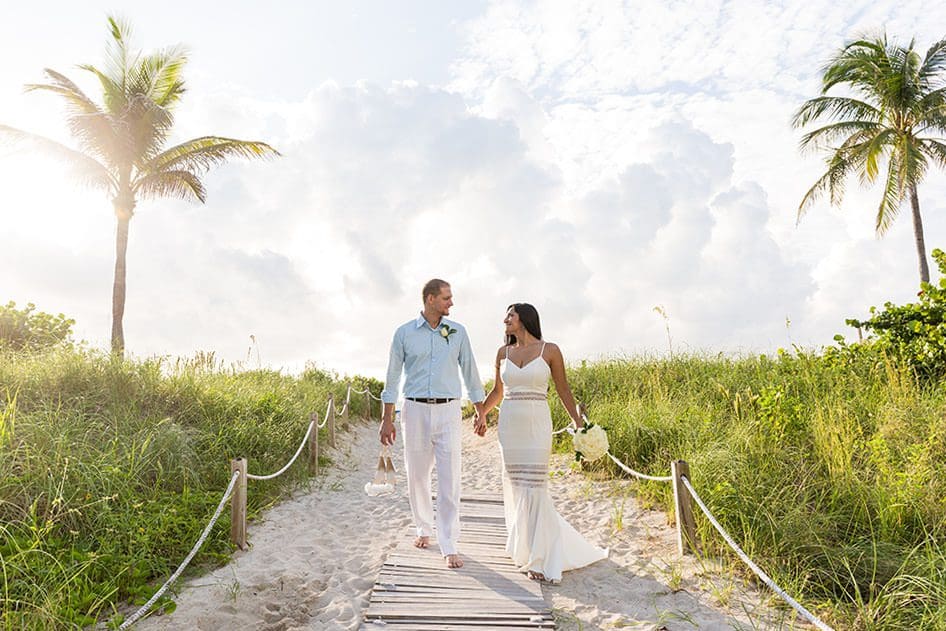 Live Stream Your Ceremony
So, you've decided to keep your destination wedding in Miami – but what about your guests? Well, the U.S. CDC suggests we should avoid large gatherings. However, live streaming your wedding to your guest list is still a great way of including your loved ones without gathering in a large crowd together. Chat with your Small Miami Weddings Coordinator about the use of our tripod or having a wedding planner on-site to record your nuptials.
Whether you decide on postponing your cruise ship wedding, elope in Miami, or move on with your destination wedding plans, the most important thing is to remember is while coronavirus may have canceled your cruise wedding, the alternative options are in your favor. So stay positive!
About Small Miami Weddings
We are Miami wedding planners, offering full ceremony planning for small destination weddings in Miami. Our Miami Beach elopement packages include a wedding officiant, elopement photographer, and wedding flowers. We're experts in securing the best beach venues in Miami for elopements.
We Can Help. Contact Us.
Small Miami Weddings is here to help you with changes to your intimate wedding or elopement wedding plans. For more information, questions about date availability, outdoor, open-air wedding venues, and locations, packages, or anything else we can help with, please feel free to contact us by calling our toll-free number: 1-888-909-0553.