5 Things You May Not Have Considered
Are you looking into how to plan an elopement wedding in Miami? Look no further! Below we've compiled some of our tops tips on how to plan an elopement!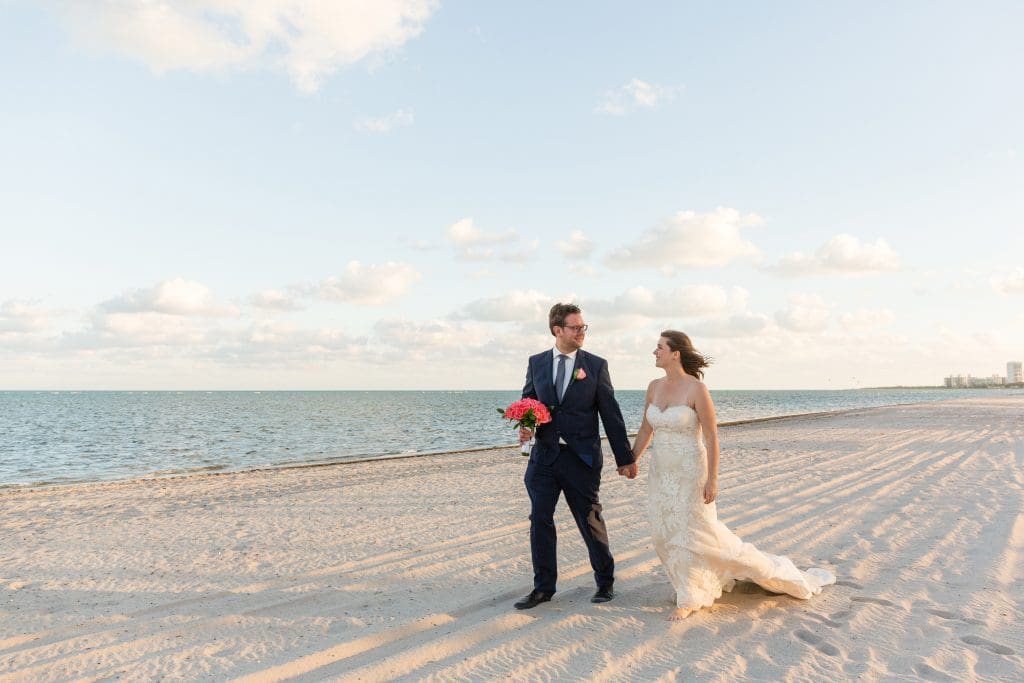 Budget
Let your budget be your guide! Planning an elopement in Miami might sound expensive to some. But with various options and packages available, an elopement in Miami can be very affordable! One of the first things you should do when planning an elopement is setting your budget. While this is not the most exciting thing to do it is very important to know what your budget is. Start by discussing what you're comfortable with spending and what type of elopement ceremony you're looking to do. Do you want something short and simple or something grand? Once you have your budget in place this will help you narrow in and focus on your vision and what you can spend.
Location, Location, Location
When thinking of how to plan an elopement in Miami one of the first things you may think about is where to do the ceremony. Luckily for you, in Miami you'll be spoilt for choice! Are you interested in a tropical beach wedding? Or maybe an intimate ceremony at one of our lush gardens? In Miami the options are endless. But we also know that too many choices can get overwhelming. So when looking for your ceremony location consider your budget, where you plan on staying, and transportation to help you narrow down the options. For example, if you plan on using a ride-sharing service to get to your ceremony location then the distance from your hotel might be a big factor in deciding which location you choose.
Don't forget your marriage license!
Some couples get wrapped up in the excitement of eloping in Miami and forget one of the most important parts: your marriage license! To be able to get legally married in Miami you'll need a Florida marriage license. Here at Small Miami Weddings we make it easy on you and include licensing assistance in all our packages! This means that we'll send you all the information on how you can obtain your Florida marriage license so you can visit the courthouse with confidence. We also understand that your plan is to elope to Miami, where there's so much to do and see, so maybe you don't want to spend your precious time here at a courthouse. No worries! We also offer a marriage license by mail service so you can spend your time here checking out the sights and not at a courthouse.
Make it personal
In our opinion, the best part of planning an elopement is making it personal! Just because you're having an intimate ceremony doesn't mean it has to be any less special than if you were to have a big wedding! We find elopements to be so romantic and powerful because they allow the couple to be truly in the moment and just focus on one another. So make sure to make your elopement special for the two of you! Whether you're writing your vows, engraving your rings, or splurging on a fancy dinner, do whatever it is that will make your wedding day special and memorable to you.
What to wear
When considering how to plan an elopement wedding many couples wonder how they should dress. Should they be dressing more casual or done up to the nines? We get this type of question all the time! And our answer is always the same: Dress how you'll feel the most comfortable! If you envision yourself in a big poofy wedding dress then do that. If you want a more casual vibe then go for it! We have couples who come dressed in a tux and wedding dress and other couples who wear jeans and a t-shirt. The most important part is that you feel comfortable with what you're wearing. So not into heels? Ditch them! Consider wearing flats, sandals, or just go barefoot. You make the rules!
Interested in eloping in Miami? We'd love to plan your elopement wedding!
Photography by Small Miami Weddings