If you're considering a small wedding at Vizcaya Museum and Gardens in Miami, you're in good company. Arguably the most unique wedding venue in Miami – Vizcaya is a stunning waterfront interpretation of an 18th-century Italian villa.
The early 1900's waterfront estate, former winter residence of businessman James Deering, features Italian Renaissance styled gardens, stone fountains, curved walls and stairs, and stunning stone archways.
Having a small destination wedding at Vizcaya is a dream for many brides and the opportunity to plan a Vizcaya Museum and Gardens wedding for our clients is a privilege we don't take lightly. Having performed over 50 garden ceremonies at Vizcaya, Small Miami Weddings is the best wedding planner to make your Vizcaya wedding a success. Here, we'll discuss everything you need to know about an intimate daytime Vizcaya Garden Wedding.
Vizcaya Venue Rental Fees and Guest Count
Vizcaya's garden ceremonies are designed for small or intimate weddings and the Venue Fee includes tickets for up to 25 people (including the couple and all vendors). When you factor in the couple, and Small Miami Wedding's Vizcaya Wedding Team (Wedding Officiant, photographer, and coordinator), you're left with roughly 20 tickets for guests.
The next question on most couples' minds is, "How much does a Vizcaya wedding cost"?  Vizcaya's Venue Fee for a garden ceremony is $1,500 (before tax).
Vizcaya Garden Wedding Restrictions
Vizcaya garden weddings take place during normal operating hours at Vizcaya Museum and Gardens. It is also important to remember that Vizcaya Miami is a historic site. In order to limit damage to the grounds, and for the comfort of all Vizcaya museum guests visiting the gardens, Vizcaya cannot allow decorations of any kind during a Daytime Garden Ceremony at Vizcaya.
This restriction includes seating. Typically, the couple and guests will stand during a Vizcaya garden ceremony. At first, the idea of a standing ceremony may sound different but our clients' feedback has been that having their closest loves ones standing around them during the 20-minute ceremony felt very intimate.
Vizcaya also restricts access to the Main House for garden ceremony couples and their guests.
Vizcaya Hours and Scheduling
Vizcaya Miami offers time slots for Daytime Garden Ceremonies between 9:30 am and 3:00 pm, any day except Tuesday. Timing is key to achieving romantic wedding pictures at Vizcaya Miami and optimal lighting conditions for photography vary throughout the year. Make sure to speak with a Small Miami Weddings ceremony planner for your specific recommended start time.
Location, Location, Location
A Vizcaya Miami wedding may take place anywhere in the gardens, except for the Secret Garden. Popular spots for small weddings as well as Vizcaya wedding photos are the Garden Mound and Teahouse.
Garden Mound
The Garden Mound, located towards the rear of Vizcaya's gardens, is a large open space adjacent to the beautiful stone Casino. This space is suitable for larger parties.
Why We Love the Garden Mound:
Stunning stone Casino in the background
Space is surrounded by gorgeous oak trees adorned with Spanish Moss
Bride's procession begins at foot of stone stairway, making for an epic entrance
Park benches along the perimeter of the space allows for tired feet to rest
The abundance of details in the space allows for a variety of photos, without moving too much
Important to Know:
The Garden Mound is situated on the second floor of Vizcaya's gardens. Guests will need to climb stairs to access the Garden Mound. There is no ramp to access this space.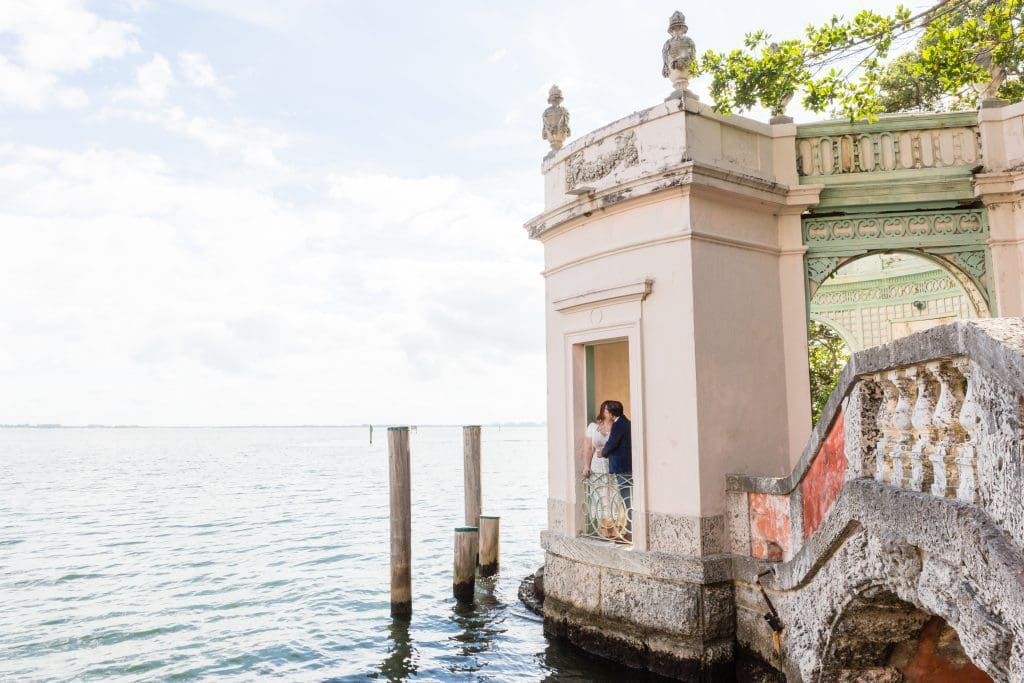 Tea House
The Tea House, just South of the Main House, is situated right on Biscayne Bay. This cozy space is suitable for small weddings of up to 10 guests.
Why We Love the Tea House:
Beautiful dome structure overlooks Biscayne Bay
Due to its location, there is usually a nice cooling breeze in this area
Beautiful Venetian styled bridge leads guests into Tea House
Geometric designs pair well with the stunning architectural features
Now you're ready to start planning your intimate Vizcaya afternoon wedding! Ready to chat with a Vizcaya wedding planner? Call Small Miami Weddings at 1-888-909-0553 and let's get started!
Photography by Small Miami Weddings